Current Fundraisers
---
No current fundraisers at this time.
---
Past fundraisers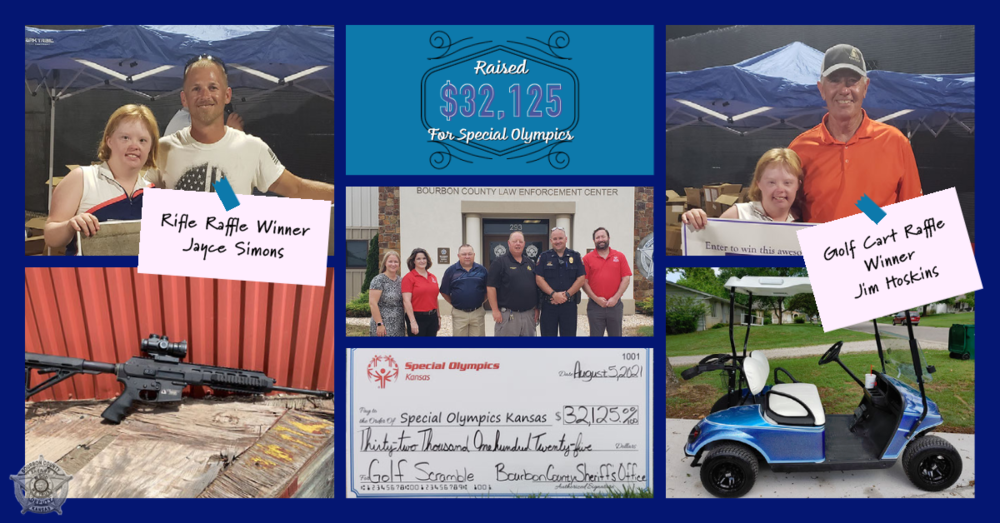 August 6, 2021
We cannot think of a better way to end this week than with a post to brag on our community.
On July 24th and 25th, after a year-long organization and coordination, our agency held our 4th Annual Golf Scramble here in Fort Scott at the Woodland Hills Golf Course.
If not for our community, this event would not have been such a success. With the help of sponsors and businesses donating items for raffle and auction our agency presented a check to Special Olympics Kansas for $32,125. All that money stays in our Southeast Kansas region to benefit the athletes.
To date, our fundraiser for Special Olympics Kansas, is the largest in the State!!!!
It is all thanks to you, our community, for pulling together for a phenomenal cause!
We would also like to call out a few behind the scenes people that made this event happen: BBCO Undersheriff Ben Cole, Steve Anthony, PPD Lt. Chris Moore (Kansas State Director of the Special Olympics Law Enforcement Torch Run), Erin Fletcher (Special Olympics Kansas Director of Grants & Development) and Sheriff Martin for allowing our Undersheriff to continue to hold these fundraisers. These people worked hard for the last year making sure everything was perfect so that our event could run as smoothly as possible.
Thank you so much for joining us and helping us raise this money for Special Olympics Kansas!!
We cannot wait to see you next year!
---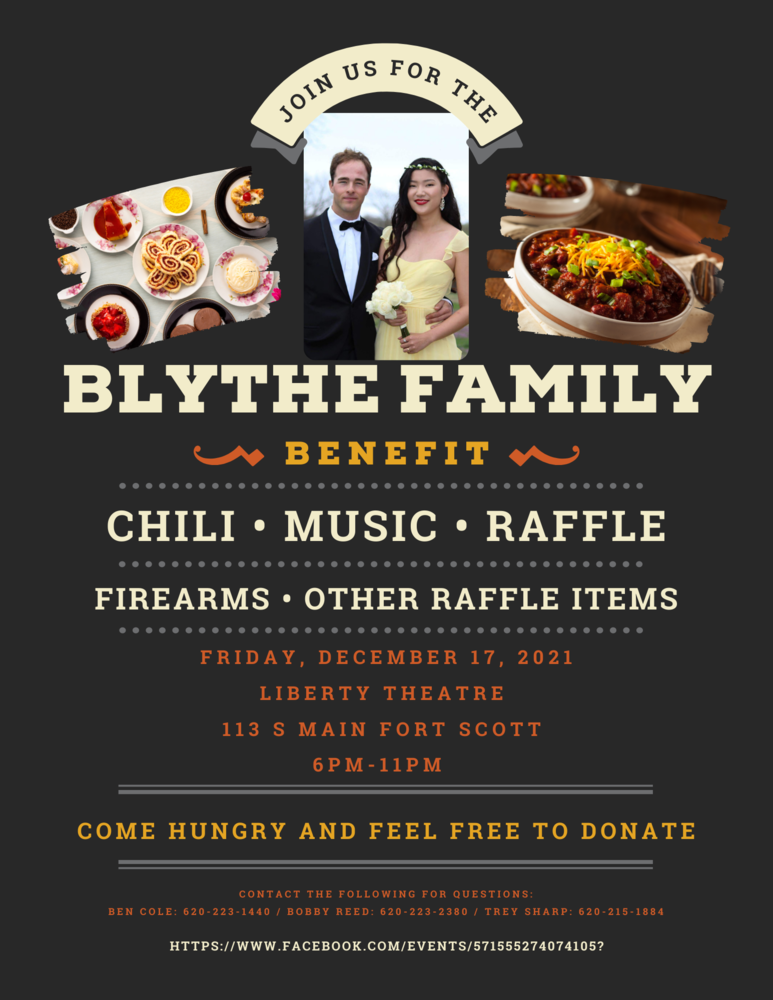 On Sunday evening, November 7th, Deputy Nelson Blythe and his wife, Euna, were involved in a car versus cow accident west of town near Uniontown.
Nelson sustained minor injuries however Euna wasn't as lucky. She was life flighted to a hospital in Kansas City and Nelson has not left her side.
Nelson has always been one to be the first to step up and help out when needed. Now is our turn to help out this couple.
Join us for a chili feed and raffle with all proceeds going to the Blythe Family. Any and all questions are to be directed to Trey Sharp, Ben Cole or Bobby Reed.
Euna began to wake up 11/15. At this point, she recognizes people, responds by nodding her head, squeezing hands, and blinking. The relief to find she understands language and recognizes friends and family can't be described.
In the past week, she has amazed nurses and doctors with her progress. Although the road will be long, we now have reason to hope for a good recovery.
Currently, an important goal is for her to be able to breath on her own. After being on a ventilator, lungs can "forget" how to breath. In the past week she has progressed from relying 100% on the ventilator, to using a CPAP, to breathing completely unassisted for periods of time.
Because Euna has done so well in this area, they are hoping to move her from the SICU to a long term care facility. This may happen within a week. The focus will be to continue her progress toward unassisted breathing, regaining muscle control, speaking, and eating.
Every prayer is appreciated. Although we now have hope that we were without during the first week, there is still a long, hard climb ahead for Euna and Nelson. Pray for healing and perseverance.
Thank you all for your support. The family has been filled with overwhelming gratitude at the response of the community.
Euna continues to heal and make progress toward recovery. At this time, she is able to breathe unassisted. Thank you for your prayers!
There are challenging days, but over the past week Euna has waved at family and friends, lifted limbs on command, and we even got glimpses of her humor. Yesterday was a big day; she vocalized words for the first time and identified people by name who were not present.
Today is another milestone. This afternoon she was moved from the hospital to the long term care facility. They will continue working closely with Euna to help her regain strength and use of her body.
The road to recovery will include challenges, but we are hopeful that Euna is going to make a good recovery. Looking back to two weeks ago, it's amazing that we have this hope and we are deeply thankful.
All your prayers and support continue to be so very appreciated.
Update 12/02/21:
Euna update- She has been moved to the KU Med rehab, she will spend up to three hours a day in therapy. With two people helping her balance and stand upright she is able to move her legs and walk.
Speech therapist is helping her with memory, recall and attention span. She is able to say a few words. Still very happy to hear news of her Pumpkin cat.
Still a long way to go, still working hard, still thankful for all your prayers and God's mercy.